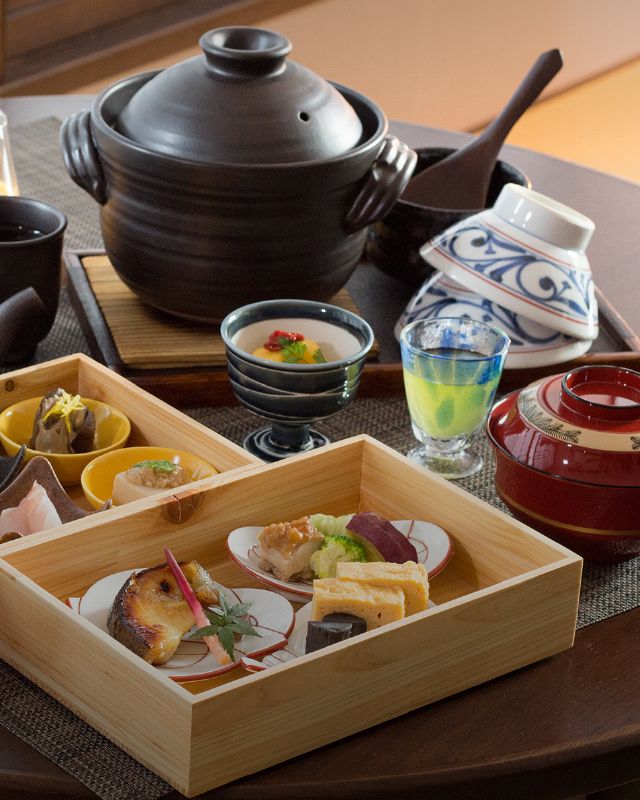 Breakfast

Special Japanese breakfast to be enjoyed in guest rooms
No need to go anywhere to have a well nourishing breakfast, you can relax and dine in the comfort of your own room.
Please get the day off to the best possible start with our well-balanced In-room breakfast of your choice.
RYUGOZEN \3,300

Menu examples

Selection of side dishes
Grilled fish in season
Homemade Japanese omelette
Tea leaves boiled in sweetened soy sauce
Steamed Rice
Miso soup
Japanese Pickles
Seasonal Fresh Fruits

*Includes tax and service charge
* Ingredients are subject to change depending on the season.
Morning tea

Start your morning with Ochanomizu (ocha means tea and mizu means water).
Please enjoy our in-room specially brended green tea together with your breakfast. There have been a Japanese daily custom of drinking a cup of green tea in the morning, which is said from our ancient time that it brings a beginning of healthy and happy day to prevent from disaster.
Hope you enjoy and appreciate the tea for your good day.
About breakfast
■ Breakfast served in guest rooms (Serving time: 7 a.m.-10 a.m.)
■ We accept breakfast orders by 10 p.m. the evening before.
■ Ingredients are subject to change depending on the season.
■ If you have any food allergies, please let us know in advance.
×
Notice of Extended Temporary Closure
(Thursday,14th July 2022)
To Our Valued Guests,
We regret to inform you that the hotel has decided to continue its temporary closure until further notice.
Further details on the reopening schedule will be posted on the website as they become available.
We deeply apologize to our customers for the concern and inconvenience caused by the extended hotel closure,and we would like to take this opportunity to thank you for your kind understanding and patience in light of the various circumstances.
We sincerely express our gratitude for your trust and patronage over the years and we remain at your disposal if you were to have any assistance or inquiries.
Email address: info@ryumeikan.co.jp
With best wishes,
The Team at Hotel Ryumeikan Ochanomizu Honten